Four squares in four different colors. Life was good and business grew steadily.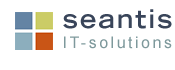 Today (23 August 2012) Microsoft unveiled their new look and their new logo.

[http://blogs.technet.com/b/microsoft_blog/archive/2012/08/23/microsoft- unveils-a-new-look.aspx]
We could live with the four squares but why do they need to use the same colors (just a bit more shiny). From now on, everyone will think that we have stolen from Microsoft: but I swear it is the other way around!
Have a look at our website back in 2010.